Case Study 2
Success to Greater Success
Company Status Prior to Marketing & Business Development Initiatives:

The company was a moderately successful professional services firm living off of a stable, but fixed, customer base.
The Challenges
1. The economic outlook for the industries that feed this firm's revenue stream was very weak.
2. The firm was isolated mostly into a single market, making its bottom line vulnerable to market swing and politically induced market upheavals.
3. The firm had no formal marketing & business development process in place to protect its existing customer base or open new opportunities.
The Strengths
1. The firm owner is recognized as a man of high character, possessing sincere care for his clients. He is also authentically friendly and charismatic in nature.
2. The staff is genuinely conscientious, professional, dedicated and customer focused.
3. The firm's track record with clients is impeccable.

I was hired as the company's new Marketing and Business Development Director working directly with the company president.
The Plan
1. A Professional Marketing & Business Development Program
My initial focus was to properly structure the company's general business and marketing philosophy to take advantage of the company's reputation for sincere, personal and highly professional services.
2. Diversification of Services
With a professional marketing format in place, my next order of business was to diversify the company's services to the existing customer base to captivate their loyalty with a variety of contact points.
3. Reinforce the Customer Base
The existing customer base was fairly loyal due mostly to the personal level of care offered. But with no ongoing marketing to the base, there was vulnerability. A quarterly marketing program was instituted to maintain visibility to the base.
4. Penetrate New Markets
We proceeded to penetrate new markets by instituting a branding campaign and personal networking with new market principals.
5. Sell Trustworthiness
Professional service firms rely heavily on a client's trust of the person at the top. Key to the marketing of professional service firms is communicating the character of that person.
Integrating the Plan
1. Research
I conducted thorough research of regional market opportunity and competition, and the media tactics they employed to attract and retain customers.
2. Targeting
We defined existing and upcoming market-driven client groups and developed marketing plans, strategies and professional media to reach each group effectively. 
3. Value Added Focus
We focused on marketing the value-added services of the firm and its personal attention to customer care. Communicating the true long-term value of these offerings enables the firm to offer pricing at a profitable level while the competition uses price alone to woo new clients.
4. A Professional Image
A complete professional corporate identity package was developed replacing the existing standard industry visuals with sleek, eye-catching media to communicate a cutting-edge professional image. 
5. New Markets
We established aggressive, and consistent, marketing and networking processes reaching into new markets.
The Details
1. Professional Identity Development
a. I established a professional identity package: marketing collateral, website design & architecture, standards of design, and advertising/communications guidelines.
b. I integrated a professional, trustworthy image into all of the firm's communication media. This included a complete redesign of virtually all of the firm's media from stationery to its website.
2. Value-added Services
a. We brought the impeccable reputation of the firm and the firm's owner to the forefront of all marketing efforts.
b. We made a practice of clearly defining the long-term, cost saving value of our services and how we differed from our competitors regarding this issue.
3. Publicity
a. We aggressively sought publicity for the firm's accomplishments and activities through local media outlets.
b. We published accomplishments and activities directly to our client base and via our website and social networking sites.
4. Diversification
a. We put in place new professional services to compliment our prior offerings.
b. The firm owner opened a new company division with professional staff to bring in-house those services that were once offered on a joint venture or consultant basis.
5. Networking
a. The firm owner shifted a significant amount of his time and attention to personally networking with existing and potential clients as well as influential local and regional economic and political leaders.
b. We invested in attendance and exposure at existing and new market tradeshows and conferences.
Results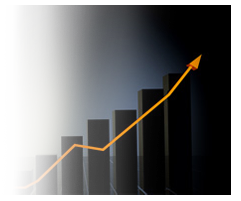 The firm strengthened its base market position by reinforcing its relationships with existing clients and adding new clients from the same market via referrals and word-of-mouth. The firm is solidly positioned as the leading provider of professional services to its base market across the southwest Pennsylvania region.  New contracts in additional markets have increased substantially, leading to new diversification opportunity.
Bottom line - corporate gross revenues increased 11 % in two years with following year growth projections anticipated to exceed that pace by a wide margin. The company defied a weak economic climate to become the premier professional services provider to its core market, and new business opportunities are flowing at a feverish pace. In 2011 the company was named to the prestigious Pittsburgh Business Times 100 Fastest Growing Companies List.
Steve Jobs, the founder of Apple, once said, "Innovation distinguishes between a leader and a follower." The company reviewed in this case study made a conscious and deliberate decision to break from the ordinary marketing and business development practices common to its field to institute innovative processes that continue to propel it to the forefront. The return on investment has been dramatic.

(Note: I would be remiss to claim the accomplishments in this study as mine alone. The firm owner is an individual who believes in the effectiveness of investing in business development. Working with such an individual makes success easy.)

Read Case Study 1
Recent Blog Posts

RIFLE or SHOTGUN? BOTH!
Some say the best way to hit the mark in marketing is to use a focused approach, much like using a rifle with a single projectile rather than blasting away with a shotgun that delivers a hundred smaller projectiles. I say, "Use both!"
More >>>

Reinforce Strengths - then Expand
Every well-built structure has a strong foundation beneath. And the greater the structure above the foundation - the stronger, deeper and wider must be the foundation. Are you ready to expand?
More >>>

BE THERE OR BE FORGOTTEN!
According to the Associated Press, the average consumer attention span in 2012 was a remarkable 8 seconds, that's down from 12 seconds in the year 2000. According to the same report the average attention span of a goldfish is 9 seconds!
More >>>